The Summer School will be held at the Escuela Técnica Superior de Ingeniería Informática y de Telecomunicación, ETSIIT (Higher Technical School of Computer Sciences and Telecommunications Engineerings), being located in the Campus Aynadamar, which is an open campus consisting of the CITIC (Communication and Information Technologies Researching Centre), and the Facultad de Bellas Artes (Faculty of Fine Arts), as well as the ETSIIT. It is 15 minutes from the city centre, and 15 minutes from the airport, by bus or car.
Lectures will be held in ETSIIT - Sal&oacuten de Actos [Conference room] (196 seats, up to 220)
Wi-fi access will be provided for Summer School attendees.
Location and how to get here

See ETSIIT Location in a larger map
How to get here
By bus
Two bus lines connect the Campus with the city centre: number 9 and number 6 of the Granada urban buses (red ones). In addition, number 22 of the same buses moves around other part of the city and reaches the Campus too. It takes around 15 minutes to get there to travel from the city centre to the Campus.

On the following map the red sign points to the ETSIIT and the yellow ones refers to bus stops: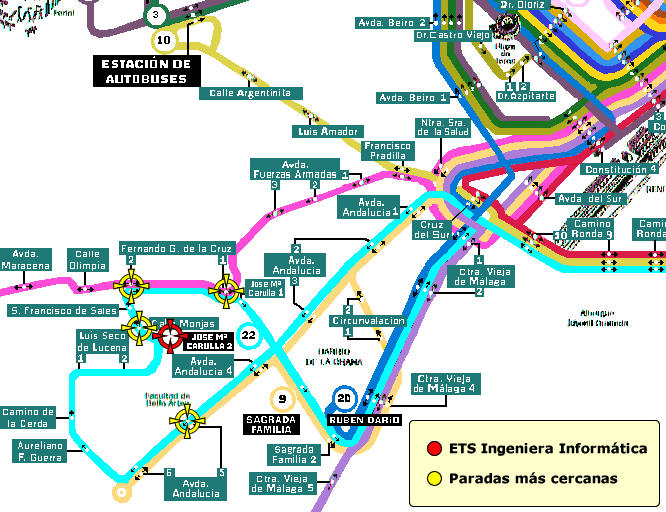 You can find a complete bus map here.
By car
From downtown
: you have to follow the signs with direction to Málaga/Sevilla (following the Avda. Andalucía) until you reach Parque Almunia (Almunia Park) or Facultad de Bellas Artes (Faculty of Fine Arts), then you follow the street where that building is and you will get to the ETSIIT.
From the airport or other place outside the city
: you have to get to the south entrance to Granada: A44 (exit 126), A92-G (follow the path to the city centre and turn right when possible).
By taxi
A taxi from downtown to the ETSIIT should cost between 5 and 10 €, depending on the area and the current tax (it changes at night).
If you come from the airport, the cost would be around 20 €.
---
ETSIIT Gallery
The building
Front and Rear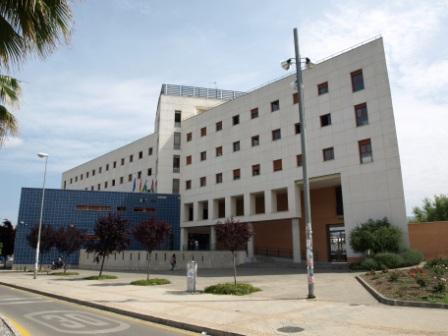 The rooms
Sal&oacuten de Actos [Conference Room]

Salón de Grados [Large Seminar]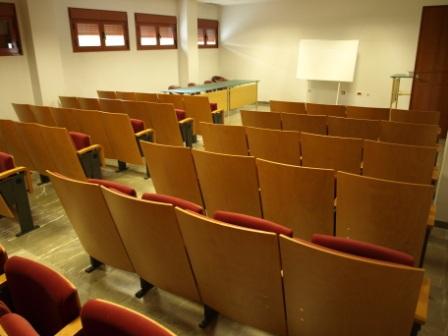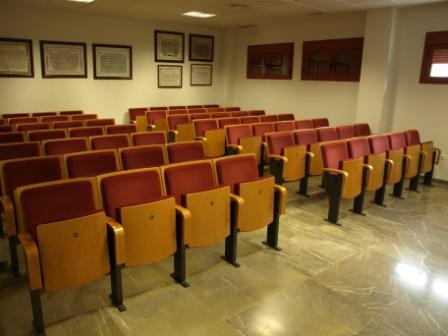 Services
Cafeter&iacutea and Restaurant