<![if !vml]>
<![endif]>
Contact details:
Jorge Andrés Rodríguez Navarro
Professor of Inorganic Chemistry
Department of Inorganic Chemistry
University of Granada
Granada E-18071, SPAIN
Fax + 34 958248526
Tel.+ 34 958248093
Email: jarn@ugr.es
Molecular Recognition
<![if !vml]> <![endif]>

Gas separation<![if !vml]>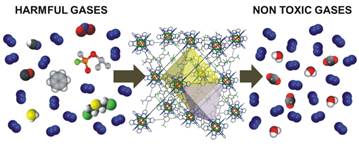 <![endif]>
Jorge A. R. Navarro born in 1969 is Full Professor of Inorganic Chemistry at the University of Granada since 2010. His research is focused on the synthesis and applications of discrete and extended polygonal coordination assemblies with molecular recognition properties suitable for applications on the fields of environmental and biomedical chemistry. He is the author of ca. 75 publications and the quality of his research has been distinguished by the Excellence Research Award of the University of Granada (2002, 2009) and the RSEQ-Sigma-Aldrich Young Researcher Award (2006).  He is also a member of the editorial board of ICA Journal.
Funding from Spanish Ministry of Economy and Innovation, Ministry of Defence, Junta de Andalucia, European Union, University of Granada.
Drug delivery and Biosupramolecular Chemistry
<![if !vml]>
<![endif]>

Research Interests
Biosupramolecular Chemistry, Porous Coordination Polymers-Metal Organic Fremeworks, Thermal Analysis, Molecular Magnetism, Adsorptive Properties, Self-assembly, Drug delivery, Gas separation, Capture of harmful gases and vapors, Catalysis
Navarro's research at Granada is focussed on the construction of discrete as well as extended polygonal coordination assemblies structurally and functionally related to organic macrocycles and open framework aluminosilicates, respectivel
<![if !vml]> <![endif]>

Discrete coordination assemblies  with accessible cavities are obtained in a rational way  by combining protected metal fragments and spacer ligands of suitable geometry. Special attention is paid to the biosupramolecular chemistry of these container molecules towards biorelevant anions, particularly mono and polynucleotides. The functionalisation of these systems with photo and electrochemically active substituents is also actively pursued i.e.  Coord. Chem. Rev. 2001, 222, 219;  Chem. Eur. J. 2003, 9, 4414;  Dalton Trans. 2004, 1563;  Dalton Trans. 2004, 2780;  Chem. Eur. J. 2007, 13, 5075; Chemm. Commun. 2008,  3735;  Inorg.  Chem. 2009, 48, 3087.; J. Mater. Chem. B, 2014, DOI: 10.1039/C3TB21455A. 
<![if !vml]>

<![endif]>
Extended coordination networks of diverse topologies are obtained by combination of naked metal ions and symmetric nitrogen heterocyclic spacers. Special attention is paid to the formation of flexible open networks related to philosilicates and zeolites. The structural and functional modifications induced by the dynamic incorporation or release of guest molecules through solid-gas and solid-liquid adsorption processes are studied in detail. Solid State Chemistry aspects like solid to solid phase transitions, solid-solid and solid-liquid synthetic methodologies that are not common in classical Coordination Chemistry are also investigated. The possible use of these systems for molecular separation, storage, delivery, catalysis and sensing are studied. i.e. J. Am. Chem. Soc. 2001, 123, 383; J. Am. Chem. Soc. 2004, 126, 3014; Dalton Trans. 2005, 1743;J. Mater. Chem. 2007, 17, 1939; J. Am. Chem. Soc. 2008, 130, 3978-3984.; Chem. Eur. J. 2010, 16, 931-937; Chem. Mater. 2010, 22, 1664-1672; Angew. Chem. Int. Ed. 2010, 49, 7308; Chem. Commun. 2011, 47, 11751–11753; J. Am. Chem. Soc. 2011, 133, 11888; J. Am. Chem. Soc. 2012, 134,12830; Angew. Chem. Int. Ed. 2013, 52, 8290; Chem. Soc. Rev., DOI:10.1039/C3CS60475F